BIO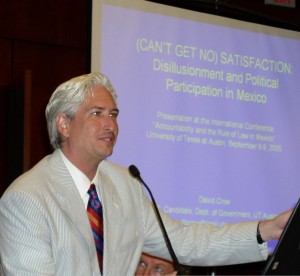 Thanks for visiting my Web page!  A little about me:   I have been Assistant Professor of International Studies at the Center for Economic Research and Teaching (CIDE, in Spanish), Mexico City, since July, 2010.  Prior to joining CIDE, I was Associate Director of the Survey Research Center and Instructor at the University of California, Riverside (2008-2010).  I got my Ph.D. in Government from The University of Texas at Austin in May, 2009.  My dissertation, Citizen Disenchantment in New Democracies:  The Case of Mexico, posits that many Mexicans' substantive definition of democracy as socioeconomic equality contributes to dissatisfaction with democracy.  Dissatisfaction, in turn, reduces voting and party activism, and increases protest.
I've had the fantastic opportunity to be part of the research teams for the surveys "Mexico, the Americas, and the World" (a bi-annual, multi-country survey of public opinion toward foreign policy in Latin America carried out since 2004) and the "Human Rights Perceptions Polls Project" (a survey of attitudes towards human rights in Brazil, Colombia, Ecuador, India, Morocco, and Mexico).  (You can find more information about these projects and my colleagues in the "Research" and "Links" sections.)  I've published my research in Comparative Politics, Comparative Political Studies, and the Bulletin of Latin American Research, and have an article forthcoming in Political Psychology.  My research interests include democratization; public opinion and citizen participation; immigration and diffusion of political values; attitudes toward human rights, and quantitative and survey methodology.
I got my B.A. in English Language and Literature at the University of California, Berkeley, in 1992.  Having developed a love for Spanish-language literature, I moved to Mexico City in 1992 to hone my Spanish and broaden my cultural horizons.  There, as a member of the NGO Fronteras Comunes, I coauthored over 200 weekly columns on Mexican politics, "The Heartbeat of Mexico/El Pulso de México", translated, and taught English.  I also enrolled in some master's-level seminars in Latin American Studies at the Universidad Nacional Autónoma de México (UNAM), Facultad de Filosofía y Letras, where I studied the History of Ideas in Latin America under Dr. Horacio Cerutti and 19th-Century Mexican literature with Dr. Jorge Ruedas de la Serna.  I published several pieces in volumes edited by the UNAM press on legislator and poet Francisco Ortega (1793-1849).
I decided to enroll UT Austin to systematize the in-depth knowledge of Mexican politics and society I gained living there in the 90's.  I was an IFE-accredited electoral observer in 2000 and 2003.  I've also been a data analyst at the Mexican market research and polling firm Berumen y Asociados and visiting student at the Centro de Investigación y Estudios Superiores de Antropología Social (CIESAS).
The best thing I've done, however:   the two sons I have with Georgina Rojas García (also a UT Austin graduate, in Sociology), Ben, 12, and Danny, 9, both born in Mexico City.